Current amount:
2,160 EUR*
Starting bid: 2,160 EUR
End: 05-15-18 15:00:00 Berlin
05-15-18 09:00:00 New York
05-15-18 06:00:00 Los Angeles (21 days, 08h:25m)
After entering your maximum bid you will be able to check your entry and you will be provided with further information. Only after a further confirmation your bid will be binding.
*Shipping costs inside the EU and statutory value-added tax included. Shipping outside the EU countries on request.
Selbst in arkadischer Landschaft. Wohl 1940 s.
Oil on canvas.
With artist's stamp on stretcher and titled by a hand other than that of the artist. 90.5 x 118.5 cm (35.6 x 46.6 in).

Bruno Seener was born in Nuremberg in 1893. The graphic artist and portrait painter presumably settled in Dresden and Chemnitz respectively in the 1930s and was mainly active for the church and municipal institutiobns. The ceiling painting in Hubertus church in Dresden and the winged altar of St. Anthony in Chemnitz were executed by Bruno Senners. His graphic works were showcased at, for instance the 'Museum for Visual Arts' in Leipzig in 2006 in context of the exhibition "Faust und Mephisto", which also comprised works by Ernst Barlach and Max Slevogt. Unfortunately, little is known about the career and the creation of Bruno Seeners - an artist living, working and teaching in the bustling art metropolis Dresden - and just waiting to be discovered

Good overall impression. Horizontal bar of stretcher slightly pushhing through. Isolated cracks. With three small, skillfully retouched and partly rebacked canvas blemishes. Canvas slightly wavy and presumably with a few faint overpainted spots.
The condition report was compiled in daylight with the help of an ultraviolet light and to the best of knowledge.
Sales results for Bruno Paul Seener
(Price incl. VAT)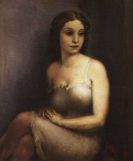 Sitzendes Mädchen, 1932
Oil on panel
7,438 €