Current amount:
1,690 EUR*
Starting bid: 1,690 EUR
End: 08-15-17 15:00:00 Berlin
08-15-17 09:00:00 New York
08-15-17 06:00:00 Los Angeles (23 days, 10h:19m)
After entering your maximum bid you will be able to check your entry and you will be provided with further information. Only after a further confirmation your bid will be binding.
*Shipping costs inside the EU and statutory value-added tax included. Shipping outside the EU countries on request.
Zu: Robert Lebel, L'Oiseau Caramel. 1969.
Lithograph in colors with embossing print.
Spies/Leppien A 20 a C (of C). Signed and numbered. From an edition of 150 copies. On wove paper. 34.3 x 24.2 cm (13.5 x 9.5 in). Sheet 39,6 x 29,2 cm ( x 11,5 in).
For the book of the same name by Robert Lebel. The motif is based on a painting from 1969. Printed in blue by Pierre Chave, Vence. Published by Le Soleil Noir, Paris 1969. [CB].

In good condition. Paper very slightly discolored. Center of upper margin with minor stains. Lower left corner with small smoothed creasemark. Edges and corners minimally scuffed.
The condition report was compiled in daylight and to the best of knowledge.
Sales results for Max Ernst
(Price incl. VAT)

Deux Oiseaux, 1975
Lithograph in colours
3,719 €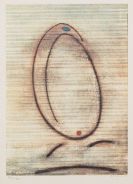 Zu: Robert Lebel, L'Oiseau caramel, 1969
Photo-lithograph
4,016 €

Ohne Titel, 1950
Etching and aquatint
7,884 €