Starting bid: 1 EUR
Bids: 13
End: 07-15-17 15:00:00 Berlin
07-15-17 09:00:00 New York
07-15-17 06:00:00 Los Angeles (21 days, 02h:29m)
After entering your maximum bid you will be able to check your entry and you will be provided with further information. Only after a further confirmation your bid will be binding.
*Shipping costs inside the EU and statutory value-added tax included. Shipping outside the EU countries on request.
Blaues Hemd 71-92. 1992.
Gouache on board.
Verso signed, dated, titled and inscribed with a personal dedication. 18.8 x 13.8 cm (7.4 x 5.4 in), the full sheet.
The shirt appeared as a key motif in the oeuvre of Horst Antes in 1991 for the first time. "A shirt or a dress are worn above the skin. Unlike the undershirt, the T-Shirt barely leaves space for a background, which is just slightly suggested in the upper margin. The surface of modern everyday clothing becomes the 'inside', both as diaphane membrane as well as from the depth" of the luminous blue. (Quote after Ulrich Bischoff. Horst Antes - Gemälde 1991 bis 1992, 2012, pp. 8 ff). A shirt offers protection, but it also is a second skin, identity and part of a person. In the end the examination of the seemingly trivial T-Shirt also explains Horst Antes' occupation with Japanese textiles. [EH/ST].

The work is in good condition. With minimal isolated traces of rubbing.
Sales results for Horst Antes
(Price incl. VAT)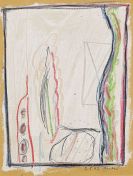 Ohne Titel, 1963
Gouache
5,950 €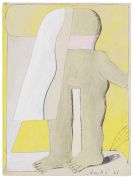 Ohne Titel, 1965
Gouache
9,669 €

Ohne Titel, 1966
Gouache
5,801 €