Current amount:
2,250 EUR*
Starting bid: 2,250 EUR
End: 08-15-17 15:00:00 Berlin
08-15-17 09:00:00 New York
08-15-17 06:00:00 Los Angeles (23 days, 10h:15m)
After entering your maximum bid you will be able to check your entry and you will be provided with further information. Only after a further confirmation your bid will be binding.
*Shipping costs inside the EU and statutory value-added tax included. Shipping outside the EU countries on request.
Temps messianiques. 1958.
Etching, colored.
Cramer Livres 30. Monogrammed and numbered. Signed in the plate. One of 100 copies. On wove paper by Arches (with watermark). 31.6 x 25.1 cm (12.4 x 9.8 in). Sheet: 53,3 x 38,9 cm ( x 15,3 in).
Sheet 92 from the series of 105 sheets "Bible". Printed by Raymond Haasen, Paris. Published by Tériade Éditeur, Paris 1958.
The death of Ambroise Vollard, who had inspired Chagall to etchings with bible themes in the late 1920s, as well as his exile in the USA interrupted the artist's occupation with the bible illustrations. He completed the work for Tériade in the 1950s, it is one of his most mature graphic achievements. Our sheet refers to Jesaja 11, 6-8. [ST].

Fine work in harmonious impression. Sheet all in all unevenly discolored. Minimal isolated brownish spots.
Sales results for Marc Chagall
(Price incl. VAT)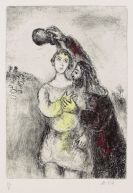 Aus: Bibel, 1958
Etching
8,925 €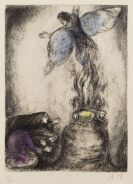 Aus: Bibel, 1958
Etching
7,884 €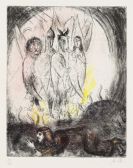 La vision d'Ézéchiel, 1958
Etching
6,694 €