Current amount:
1,690 EUR*
Starting bid: 1,690 EUR
End: 08-15-17 15:00:00 Berlin
08-15-17 09:00:00 New York
08-15-17 06:00:00 Los Angeles (23 days, 10h:16m)
After entering your maximum bid you will be able to check your entry and you will be provided with further information. Only after a further confirmation your bid will be binding.
*Shipping costs inside the EU and statutory value-added tax included. Shipping outside the EU countries on request.
Ohne Titel. 1981.
Collage. Chiasmage over color offest on thin board, firmly mounted in object box.
Lower right monogrammed and dated. 30.5 x 23.5 cm (12 x 9.2 in). Object box 38 x 31 cm ( x 12,2 in).
A small section from the painting "The Flight to Egypt" by Joachim Patinir from 1515/24, today in the Koninklijk Museum voor Schone Kunsten, Antwerp, is located in the lower right. The sheet is mainly covered with paper cutouts inscribed with series of numbers. For his chiasmage technique Jirí Kolár uses letters, historic postcards, cloth samples or chess books that he finds on flea market. By "tearing, cutting and crumbling them he deconstructs the original motifs and puts them together again, however, from a different perspective..'The chiasmage offered me the opportunity viw the world from thousand and one angles' " the artist says. (quote after: Sabine Polácek, Die Welt aus Tausend und einem Winkel, Prager Zeitung, 17 September 2014). [EH].

In good condition. Firmly mounted in object box.
Sales results for Jirí Kolár
(Price incl. VAT)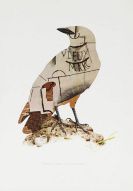 Ohne Titel (Vögel), 1970
Collage
8,925 €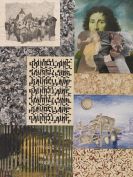 Ohne Titel, 1963
Collage
8,181 €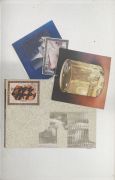 Ohne Titel, 1979
Collage
4,463 €