Current amount:
1,130 EUR*
Starting bid: 1,130 EUR
End: 08-15-17 15:00:00 Berlin
08-15-17 09:00:00 New York
08-15-17 06:00:00 Los Angeles (23 days, 10h:17m)
After entering your maximum bid you will be able to check your entry and you will be provided with further information. Only after a further confirmation your bid will be binding.
*Shipping costs inside the EU and statutory value-added tax included. Shipping outside the EU countries on request.
Begrüßung. 1892.
Drypoint.
Knesebeck 13 II presumably f (of II f), Klippstein 10 II d (of II d), Söhn Handbuch der Original-Graphik 53001-3. Signed. On laid paper. 11.8 x 8.8 cm (4.6 x 3.4 in). Sheet: 32,2 x 25 cm ( x 9,9 in).
Presumably later print after 1917, published by Verlag E. A. Seemann, Leipzig .

PROVENANCE: Dr. Johannes Schürer, Mühlheim a. d. Ruhr (with stamp on inside of mount).

Dr. Johannes Schürer, physician and art lover, began to collect art in 1922 through the contact with the director of the Mülheim museum Werner Kruse, who counseled Schürer in questions regarding acquisitions. [JA]

Minimally discolored and with tiny isolated brownish spots. Margins discernibly scuffed. Mounted on backing board on verso of upper margin, slightly pushing through to recto. Upper left corner with small loss (presumably from old mounting). Strong impression and in good condition.
Sales results for Käthe Kollwitz
(Price incl. VAT)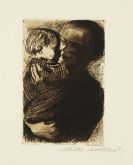 Mutter mit Kind auf dem Arm, 1910
Drypoint
4,463 €

Schlachtfeld, 1907
Drypoint
11,156 €

Losbruch, 1903
Drypoint
11,156 €