Current amount:
2,110 EUR*
Starting bid: 2,110 EUR
End: 08-15-17 15:00:00 Berlin
08-15-17 09:00:00 New York
08-15-17 06:00:00 Los Angeles (23 days, 10h:16m)
After entering your maximum bid you will be able to check your entry and you will be provided with further information. Only after a further confirmation your bid will be binding.
*Shipping costs inside the EU and statutory value-added tax included. Shipping outside the EU countries on request.
Haus am Wasser (Vareler Hafen). Um 1921.
Watercolor over pencil drawing.
Monogrammed lower right. Rear of a postcard. 10.5 x 15 cm (4.1 x 5.9 in), the full sheet.
Postcard to Rosa Schapire in Hamburg, text just fragmentarily preserved: "[..] Landschaft aus Dangast (?) [..] Hier bricht der Herbst an [..]. Herzl. Grüße Radz.".
According to Mr Seeba, the missing stamp suggests that Radziwill sent painted postcards enclosed in letters. In this case the card may have been attached to a letter to the art historian Wilhelm Niemeyer in Hamburg, through whom Radziwill became acquainted with Rosa Schapire, who often visited Niemeyer in Hamburg. [KD].

We are grateful to Wilfried Seeba, Bremen, for his kind expert advice.

PROVENANCE: Private collection Berlin.
Private collection Northern Germany.

LITERATURE: Wilfried Seeba und Ekkehard Seeber, Franz Radziwill (1895-1983). Catalog raisonné of watercolors, drawings and painted postcards, Isensee 2006, catalog raisonné no. P 2125 (mit Abb.).

Good overall impression. Slightly discolored and soiled. Corners slightly scuffed in places and left edge with small pressure mark, there also with tiny brownish spots. Faint handling creases and minimal isolated creasemarks. Lettering on verso just fragmentarily preserved and stained on verso from framing.
Sales results for Franz Radziwill
(Price incl. VAT)

Landschaft bei Tosdet (Tostedt), 1923
Watercolor
26,775 €

Kapelle, 1930
Watercolor
8,925 €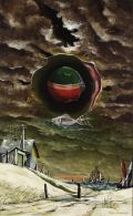 Wintersonne, 1956
Oil
37,188 €